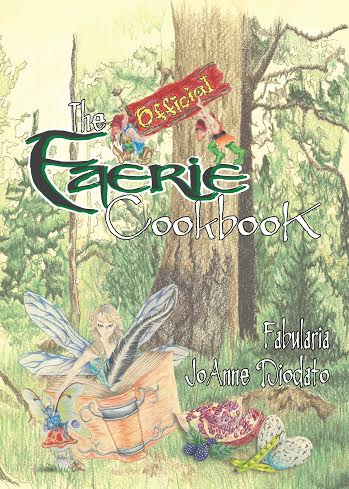 EXCITING NEWS!  JoAnne's newest book, The Official Faerie Cookbook, is here!
She will debut the cookbook at the May Day Fairie Festival at Spoutwood Farm, with a percentage of sales going directly to help the Farm. After the Festival you can also order the cookbook directly. Full details and ordering information can be found here  Below is just one of the easy and scrumptious recipes included in the cookbook. Buy the book and start your culinary adventure today!
Cheesy Sprite Wings
12-16 Servings
Ingredients
3 ounces shredded Mexican 4-cheese mixture
1/2 teaspoon caraway seeds
Dash garlic powder
Dash cayenne
Directions
Distribute shredded cheese evenly over the bottom of a large skillet.
Very lightly season with garlic powder and cayenne. Sprinkle caraway seeds over the top.
Cook over medium heat until cheese forms small holes where it bubbles, and becomes crispy, about 10 minutes. If cooked too long it will begin to burn; not long enough and it will not be crisp.
Slide from skillet onto cutting board. Cut into 12-16 triangle-shaped slices or "wings" with a pizza cutter or knife.  Serve warm or at room temperature.
Variations
Other semi-hard cheeses may be used.  Harder ones like Parmesan will work better.  Nokkelost is tasty, too! The caraway seeds can be omitted, if desired.