Welcome to JoAnne's INK BLOTS—her Publications!
EXCITING NEWS!  JoAnne's newest book, The Official Faerie Cookbook, is here!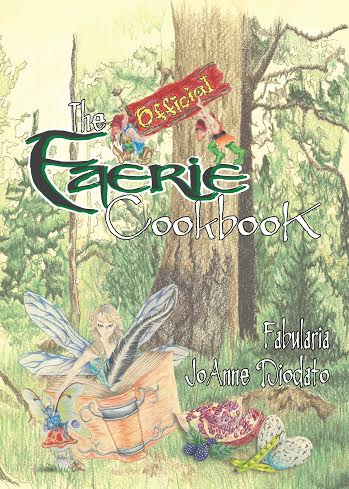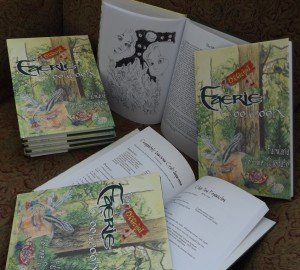 Food is so important to Fae folk that much of their time revolves around planning and preparing their feasts.  They love to try unique and interesting dishes, and they are always ready for something new to cross their table.  This cookbook is a treasure trove of Fae culinary delights, with over one hundred recipes!  Many of the recipes are inspired by the amazing dishes JoAnne has tasted at the May Day Fairie Festival at Spoutwood Farm and other Faerie Festivals up and down the East coast. Quite a few of them are vegetarian, but can be easily adapted for non-vegetarian (i.e., meat) palates, or for vegans, as well. A number of lactose-free and gluten-free recipes have also been included.  Nearly all have been consumed with relish by her own family!  Every cook will be able to follow the easy-to-read step-by-step instructions to create Fae deliciousness!
The Official Faerie Cookbook is currently available from JoAnne at festivals where she vends (see her Calendar page here), or you can order directly below. PayPal is the preferred payment method.
For priority or express shipping, please contact us directly to obtain a shipping/handling quote at thumbprint.graphics@gmail.com or at jd@joannediodato.com
The cookbook comes in a hardcover version for $29.95 + s/h (automatically calculated at checkout)
The softcover version is $24.95 + s/h (automatically calculated at checkout)
____________________________________________________________________________________________
JoAnne's poems have been featured in a number of anthologies.  She is currently working on several new writing projects, including a new book relating science and belief systems.
____________________________________________________________________________________________
JoAnne's technical publications include:
Fourth Annual Radon Conference Proceedings (Ed.) (1990, ISBN 978-9991197746)
BWR Reactor Theory text (PSE&G) (1983)
"Intricacies of Carbon Technology" (1989)
"Statistical Variation of Radon Measurements Using Activated Carbon Canisters" (1989)
"Startling Radon Risk Comparisons" (Health Physics Society Newsletter, 1990)
DMA Newsletter (various issues)